Abstract

·

Résumé

·

Resumen
GeoTUI is a system designed for geophysicists that provides props as tangible user interface on a tabletop vision-projection system for the selection of cutting planes on a geographical map of a subsoil model. Our GeoTUI system allows the geophysicists to manipulate in the same action and perception space since the movement of the physical artifacts is done on the tabletop and thus constrained to two dimensions. Consequently, our system combines the advantages of the spontaneous conditions of user interaction that the geophysicists are commonly used to, in their classical paper/pen/ruler environment, with the advantages of the use of powerful geological simulation software.
Le système GeoTUI est une table interactive tangible, par vision optique et projection vidéo, qui a été conçue pour que les géophysiciens puissent explorer les modèles de sous-sol depuis les cartes géographiques de surface à l'aide d'interacteurs tangibles. Le déplacement en deux dimensions des artéfacts physiques, sur le plateau de la table de notre système GeoTUI, permet aux géophysiciens de manipuler les données dans un seul espace d'action et de perception. Ainsi, notre système combines les avantages des conditions spontanées de travail auxquelles les géophysiciens sont habitués, dans des conditions papier, stylos et règles, avec les avantages de la puissance de calcul des logiciels de simulation géologique.
El sistema GeoTUI es una mesa interactiva tangible, con visión óptica y proyección video, que fue diseñado para que los geofísicos puedan explorar los modelos del sótano a partir de los mapas de superficie con ayuda de interactores tangibles. El movimiento en dos dimensiones de los artefactos físicos en la mesa de nuestro sistema GeoTUI permite a los geofísicos poder manipular los datos en un solo espacio de acción y percepción. Por lo tanto, nuestro sistema combina las ventajas de las condiciones de trabajo espontáneos que los geofísicos están acostumbrados, en términos de papel, bolígrafos y reglas, con las ventajas de la potencia de cálculo de software de simulación geológica.
Site web : geotui.estia.fr
Pictures

·

Photos

·

Fotografías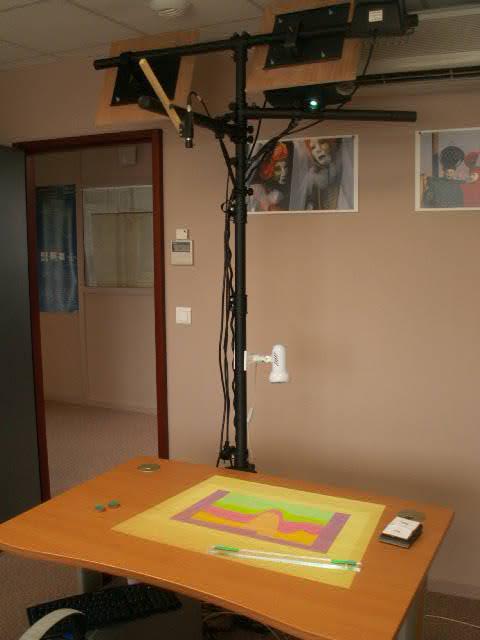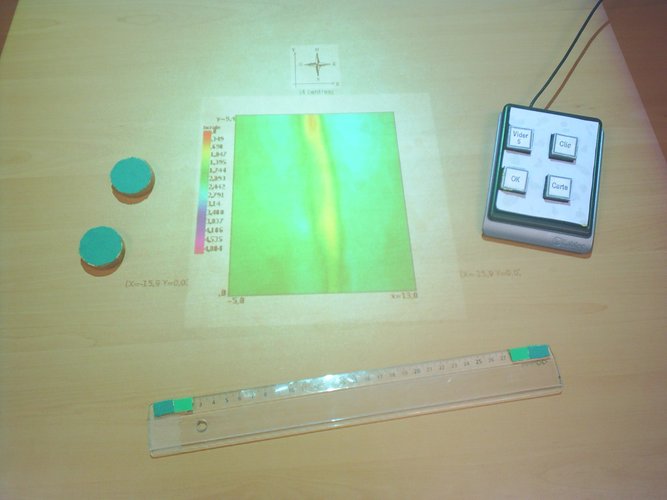 Exhibitions

·

Salons

·

Salónes
Publications

·

Publications

·

Publicaciones

6 results
2009
[6]

Rivière, G.

,

Couture, N.

,

Jurado, F.

, "Tangible User Interfaces for geosciences", In SEG Technical Program Expanded Abstracts, Society of Exploration Geophysicists, vol. 28, no. 1, pp. 1137-1141, 2009.
[5]

Rivière, G.

, "Tangible interaction on tabletops : applied in geoscience", PhD thesis, Université Bordeaux I, 2009.
2008
[4]

Couture, N.

,

Rivière, G.

,

Reuter, P.

, "GeoTUI: A Tangible User Interface for Geoscience", In The second International Conference on Tangible and Embedded Interaction (TEI'08), ACM, Bonn, Germany, pp. 89-96, 2008.
2007
[3]

Couture, N.

,

Rivière, G.

, "Table interactive et interface tangible pour les géosciences : retour d'expérience", In 19ème conférence francophone sur l'Interaction Homme-Machine (IHM'07), ACM Press, Paris, France, pp. 23-26, 2007.
[2]

Couture, N.

,

Rivière, G.

, "Etude d'interacteurs pour la sélection d'une ligne de coupe depuis une carte", In 19ème conférence francophone sur l'Interaction Homme-Machine (IHM'07), ACM Press, Paris, France, pp. 299-302, 2007.
2006
[1]

Couture, N.

,

Rivière, G.

, "Faisabilité d'une Interface Tangible pour la Validation d'Hypothèses en Géosciences", In 3è Journées Francophones Mobilité et Ubiquité (Ubimob'06), ACM, Paris, France, pp. 163-164, 2006.